What Makes the Attic Seal™ Different?
Unlike other attic insulation covers, the Attic Seal™ creates an air tight seal around your attic access preventing extreme hot or cold attic air and pollutants from seeping into your living space.
Most covers simply sit on top of you access allowing air to pass freely into your home. They also lack the ability to stay in place. Covers that simply sit on top of your access will shift and turn when you close the access door, making the cover inefficient.
---
See the Results
The image on the left is an attic entrance without an Attic Seal™ attic cover. The image on the right shows an attic entrance with an Attic Seal™ installed. The temperature has lowered and there is no longer attic air leaking into the home.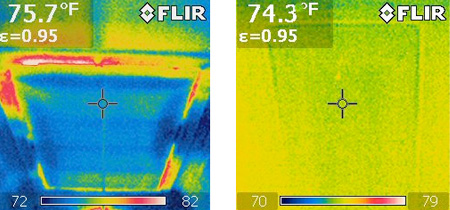 Testimonials

This product is wonderful and should be in every home! Thank you so much for walking me through the measurement process! I have already recommended your cover to all my friends.
-- Laura Chapman
Austin, TX

You have a great product. I was able to install my cover in less than 20 minutes and can already feel the difference.
-- Don Hanchey
Rapides Parish, Louisiana

I have installed multiple insulation covers over the years, and I have to say, your cover is by far the easiest and strongest cover I have come across. I will be ordering another case soon.
-- Ted Freeman
Insulation Contractor
Wayne, New Jersey