How Attic Stair Door Covers Work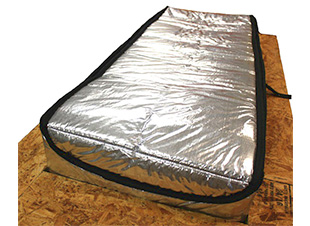 Attic Access Insulation and Air Sealing
Adequately insulating and air sealing the access to an attic – especially to unconditioned attics will help lower your heating and cooling bills.

A home's attic access, which could be an attic hatch, pull-down stairs, or a knee-wall door, often goes uninsulated. This gap in the attic insulation increases heat loss in the winter and heat gain in the summer.

These accesses also often aren't sealed properly. A 1/4-inch gap around the perimeter of an attic access can potentially leak the same amount of air supplied by a typical bedroom heating duct.
How to install your Attic Cover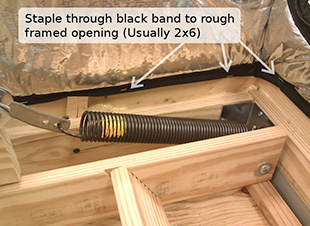 Measure, Install, Save!
Attic Covers Draft Out™ is easy to install. It fits easily around your attic stairs frame and can be secured with 3/8" or 1/2" staples to any surface, smooth or rough.

After the Attic Cover has been successfully stapled in place you need to Caulk the Attic cover to the framing with a good quality silicone caulk.
Insert the tip of the silicone caulk between the Attic Cover skirt and the framing. Squeeze a thick continuous bead around the frame.

Gently press the skirt into the caulk to insure a continuous seal. You have now created an insulation barrier and air barrier between your attic space and your home.